SELWOOD Wastewater & Slurry Pumps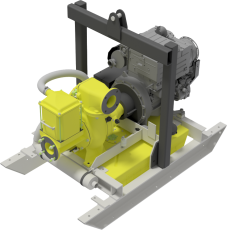 For a larger view click on the thumbnail
SELWOOD product overview (4.71 MB)
Self-priming, dry-running resistant, solid handling centrifugal pumps or induction diaphragm positive displacement pumps for wastewater and sewage applications.
Established over 65 years ago, Selwood is one of UK´s largest privately owned construction equipment rental companies.
SELWOOD is not only the leading pump supplier in the UK, but also the leading supplier of construction equipment and accessories on the South Coast. Selwood has been designing and manufacturing mobile pumps for over 50 years, becoming the UK market leader in this sector. Selwood Pumps success is based on continuous growth, innovation and entrepreneurial spirit. Since its beginning in 1955, the company has consistently focused on expanding into new markets both domestically and internationally. Currently 70 % of pump production is for a worldwide dealer network. Selwood´s original pump design, and internationally known terms such as "Simplite", "Spate" and "Seltorque" have quickly established themselves as the market standard in the construction industry. Continuous developments of these designs are an important part within these ranges of vacuum assisted pumps. Today, Selwood covers a wide range of applications in many industrial sectors, construction, marine, environmental and flood control, mining and wastewater treatment. This wide range requires a wide selection of materials to pump mediums containing solids, suspensions such as bentonite, slurries and oily mediums.
Technical Data
SELWOOD
series
Qmin
[m3/h]
Qmax
[m3/h]
Hmin


[mWs]

Hmax


[mWs]

Speed


[1/min]

Materials

"S" Pumps
1290
70
metallic
"D" Pumps
600
40,5
metallic
"H" Pumps
950
158
metallic
"HS" Pumps
575
69
metallic
"C" Pumps
285
24,5
metallic
"PD" Pumps
77
30,5
metallic
Sizes from 50mm to 300mm
Stationary, mobile frame, trailer or sled frame
Soundproof housing
Environmentally friendly
Design Features
Selprime
Unique original design
Water insensitive vacuum diaphragm pump
No hazards from oil mist, oil leakage or emulsifying oil as known from other priming systems
Noise protection
Noise emissions down to 58 dB(A) at 7m.
Collection tray
All pumps with noise protection are leak-proof
In case of leakage, fuel or oil remains inside the housing, avoiding possible environmental pollutions.
Automatically level control
Float switch for an automatic operation of the pump
A cost-effective and uncomplicated system for level control
Telemetry
Remote diagnostics and documentation of operating conditions
Connection to preselected mobile devices, or fixed networks, for real-time alarm notification in case of malfunctions
HS hydraulic pumps
The hydraulic system can be operated with environmentally friendly, synthetic or mineral oils